When a certificate for your Pass Type ID is expiring you need to reissue a new certificate and upload it to the platform.
1º First Login to the Passes Platform. In click in the top right dropdown menu → then click in Certificates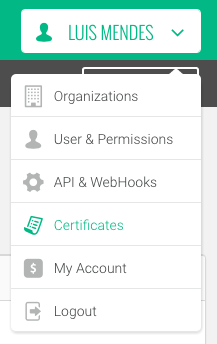 Figure 1 - Certificates menu
2º Locate the expiring certificate and press the Update Certificate button it.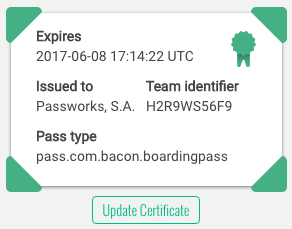 Figure 2 - Certificate Preview and the update button
3º Follow the instructions on the update certificate page, or continue reading the instruction bellow.
Instructions for the Apple Developer site
Login in to https://developer.apple.com
Click in Certificates, IDs & Profiles under the Overview menu.
Under Identifiers, select Pass Type IDs.
Find the Pass Type ID that you are searching for (see ID column) and click on it.
Click Edit.
Click Create Certificate…
Click Continue on the About Creating a Certificate Signing Request (CSR) page.
Click Choose File on the Generate your certificate page and click Continue
Click Download and save the CER file (normally called pass.cer) containing the Pass Type ID certificate to your Desktop.